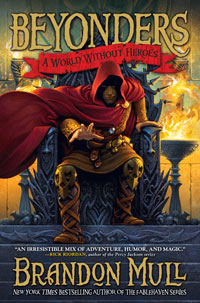 The Beyonders: A World Without Heroes is the first novel in a series by Brandon Mull. A mix of adventure, humor, monsters, and magic, this story unfolds in the mythical alternate universe of Lyrain.
In The Beyonders , no one has ever been able to cross through alternate universes except Jason Walker, who astonishingly finds himself in Lyrain. One day, a girl named Rachel unexpectedly passes through universes too. She meets ups with Jason, and they become friends. They call themselves the "beyonders" because they are from another world—in this case, Earth, which is far away from Lyrain.
While in this different universe, Jason and Rachel see that Lyrain is being taken over by the evil Maldor. The only way to defeat Maldor is to discover a particular magical word and use its power to destroy him. Not even the Blind King, ruler of Lyrain, can defeat Maldor. Desperate to find a way home, Jason and Rachel plot to conquer Maldor.
Throughout this text, Mull's writing style is full of humor. He patiently explains difficult scenarios in the book that otherwise would be complicated for readers to understand. He also provides many life lessons, like never to give up and always have hope. Hope is what keeps Jason and Rachel strong in the fight against Maldor. Hope is what they must rely on to get home.
I recommend The Beyonders for middle school students, especially seventh and eighth graders with an average reading level. Read the book to find out if Jason and Rachel are able to defeat Maldor and return home!