Book Review: The Book Thief

by Markus Zusak
Reviewed by Sydnee Griffin, age 16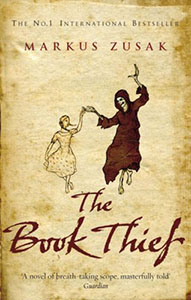 The Book Thief by Markus Zusak is a novel told from the perspective of Death. The story follows the young life of Liesel Meminger, her foster parents, her best friend Rudy Steiner and the Jewish man she and
her family hide in their basement in Nazi Germany during World War II.
The book begins with a narration by Death who opens the novel with the scene of nine-year-old Liesel and her brother Werner on a train ride to the home of their new foster parents. Unfortunate events take place shortly after the journey begins. Liesel arrives at the home of Rosa and Hans Hubermann. The foster mother Rosa initially screams for Liesel to "get out of the car," and layers each sentence with German swear words. Hans, the soft natured and gentle foster father tries a different approach and Liesel soon becomes fond of him. Liesel also comes to know Rudy Steiner, her best friend and a the boy who wants nothing more than to kiss her. Attempting to emerge herself in the neighborhood antics, Liesel plays street soccer and earns her freedom from playing the position of goalie.
Virtues such as patience are highlighted thoughout this book, for example, when Hans teaches Liesel how to read. Families like the Hubermanns and the Steiners both play large roles in the novel by guiding and protecting the children and teaching them how to keep themselves safe in the midst of the Nazi regime. The love given to Liesel by both the Steiners, Hubermanns and other adult figures becomes a big deal for someone like Liesel who has never experienced much love in her life. As she grows as a person, so do her relationships with the characters around her.
The Book Thief manages to tie common components in life like the mantra "don't give up" into the daily adventures of a twelve-year-old girl and her friends. The tone of the book makes Adolf Hitler and his rule very apparent in every chapter. This is why they know that the Jewish man hiding in the basement must never be found.
I think that reading this book that is not narrated by a living character, but by Death, will take readers on a wonderful and tragic rollercoaster of a story. The ride is an enjoyable tale from a serious time in history.