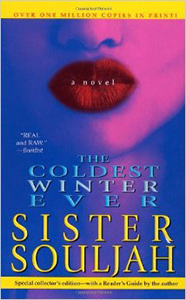 In Sister Soljah's novel The Coldest Winter Ever, protagonist Winter Santiga is the teenage daughter of a famous drug lord. She has only the nicest things and expects nothing but the best. Though she used to live in the hood in Brooklyn, her dad recently moved Winter, her mom, and her three sisters out of Brooklyn into a community of mansions.
Once in this new neighborhood, Winter lives the high life. She spends hundreds of dollars a day until suddenly on her 16th birthday, her father is torn from their lives. The FBI not only takes him but also everything the family owns. They have nowhere to live and nowhere to go. On the streets, Winter's mother quickly turns to drugs, and her younger sisters are taken by Social Services. Winter, who lies about her age, is left to survive on her own—without any resources.
This isn't Winter's first rodeo. She knows how to be on her own. She hides from and fights with Social Services as long as she can, but she is eventually moved into a group home filled with sad and abused women. At the same time, Winter also needs money to get her dad out of jail. So she finds a way to get ahead in the group home: with the little money she has, she buys hair products, make-up, clothes, and magazines. She sells the items to the girls in the group home and becomes their personal stylist. Because of this, the girls are happier. So is Winter—she is finally making money.
But Winter is not satisfied until she rekindles a relationship with one of her old boyfriends, Bullet. He has money, so Winter runs off with him to a place where there are beaches and sunny skies. She is once again living the life. However, what goes up must come down: Winter's life once again crashes at full speed.
While traveling to Brooklyn with Bullet, Winter gets in a brawl with her former friend, Simone. Bullet intervenes by shooting a gun into the air, which attracts the police. Bullet runs away, but Winter is arrested. She is ultimately sentenced to 15 years in prison, for the drugs that Bullet had stashed in their car. But this is not the end of Winter's story: you'll have to read the rest of the novel to find out what happens!
Due to graphic details and some situations not suitable for younger kids, I would recommend this book only to high school students. The Coldest Winter Ever is a page-turner. Once I picked it up, I definitely couldn't put it down.