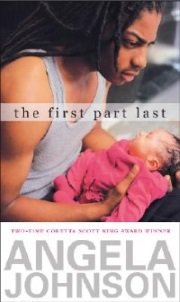 The First Part Last is an award winning book written by Angela Johnson. This novel tells the story of character Bobby's life as it flips upside down. On Bobby's 16th birthday, his girlfriend Nia tells him she is pregnant. Following this news, Bobby's life completely changes.
Bobby and Nia talk about how young and inexperienced they are and how their lives will change if they decide to raise a child. For example, Nia will not be able to go to college. So, they decide to give the baby up for adoption. A tragic event, however, makes Bobby realize that he wants to keep his daughter, Feathers, even if that means he will be a single father. I especially like this part of the book because Bobby has to make a hard decision in spite of the pressure everyone is putting on him.
Though this story is very interesting, it can be difficult to follow at times because the chapters switch back and forth between present and past events, but the author helpfully labels each chapter "then" or "now." The chapters titled "then" are about Bobby and Nia. Those titled "now" are about Bobby getting used to taking care of Feathers by himself, without Nia's help.
The First Part Last has a very engaging plot, and I could easily imagine the scenes in my head. I enjoyed reading this book, and I think middle and high school students would like it too.