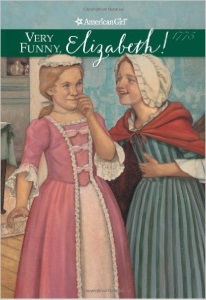 Very Funny Elizabeth by Valerie Tripp, one book in the beloved American Girl Doll series, tells the story of two mischievous girlfriends—Elizabeth and Felicity—who are growing up in Williamsburg, Virginia in 1775.
Elizabeth and Felicity spend a lot of their time around Annabelle, Elizabeth's sister. In fact, one of their favorite ways to pass the time is poking fun at Annabelle, who is obsessed with getting married.
One day, Elizabeth and Felicity decide to trick Annabelle into thinking that Felicity's dad's apprentice likes her. But, after Elizabeth gets in trouble for this prank, her father reveals that he has actually secured a marriage for Annabelle with a man named Lord Henry. A very shy and nervous man, Lord Henry always has his sister speak for him.
Meanwhile, Elizabeth's parents decide that she and Annabelle need to become "proper ladies." So, a woman named Miss Priscilla begins to train them and even plans to take them to England. While Annabelle is very excited about this opportunity, Elizabeth tries to get out of it every possible way she can.
Will Elizabeth end up in England? Will her mischief-making ways land her in trouble? Or will she use her wit to plot a way to stay in Williamsburg with Felicity? Read Very Funny Elizabeth to find out.
Very Funny Elizabeth is a great book that blends history with fiction. I recommend this story to second through fourth graders because it is a short read and also one that younger kids can relate to.