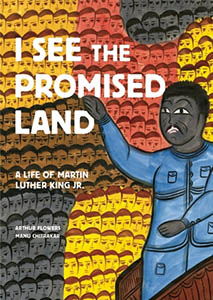 Written by Arthur Flowers and illustrated by Manu Chitrakar, I See the Promised Land is a graphic novel that explores the Civil Rights Movement and Dr. Martin Luther King Jr.'s involvement in it.
The son, grandson, and great grandson of southern black baptist preachers, Dr. Martin Luther King Jr. was inspired to change the world. He noticed how blacks in the south, and especially in Alabama, were treated horribly. Influenced by Mahatma Gandhi, Dr. Martin Luther King Jr. was determined to challenge this maltreatment through non-violent protests and activism.
I See the Promised Land shows how African American men, women, and children experienced inequality in Alabama, Mississippi, Selma, St. Augustine, Florida, and many other places. In these places, black people and white people were separated from one another. They were made to attend different schools, use separate water fountains and bathrooms, and sit in different areas of public buses and restaurants. Those who refused to follow these rules were often thrown in jail, beaten, or killed.
The book cites Rosa Parks, for example, as one of many who tried to take a stand against mistreatment. She refused to follow the rule that black people must sit toward the back of public buses and white people should sit toward the front, no matter how crowded the buses were. When a white passenger needed her seat, Parks refused to move. She was arrested as a result of her actions.
I See the Promised Land also details Dr. Martin Luther King Jr.'s protests. For instance, in response to the mistreatment of Parks' and many others who were jailed for similar reasons, he started a bus boycott. He encouraged African Americans not to use the pubic transit system. For weeks, many black people stayed off buses. This resulted in a financial loss for bus companies. Ultimately, these companies responded to the boycotts by desegregating buses for good.
This novel also depicts Dr. Martin Luther King Jr.'s "March on Washington." This consisted of millions of people marching for increased civil rights, better opportunities in the workplace, and racial equality. During this event, Dr. Martin Luther King Jr. delivered his now famous "I have a Dream" speech, in which he challenged his audience to make the world a better place for all.
Though Dr. Martin Luther King Jr. is no longer living, his legacy certainly is. His birthday, January 20th, is now a national holiday. Each time we celebrate this day, we are reminded of the amazing individual who forever changed history. Dr. Martin Luther King Jr. is an inspiration, and he shows that it only takes one person to make a difference.
I enjoyed reading I See the Promised Land because doing so allowed me to discover more information about this specific time period than I had learned in school. I recommend this book to anyone who wants to learn more about African American history or Dr. Martin Luther King Jr. and how he inspired change in our world.