Book Review: Persepolis: The Story of a Childhood
reveiwed by Alan Cruz, age 17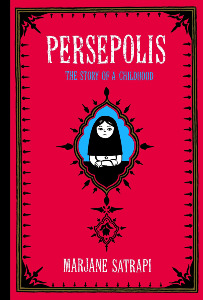 Persepolis is a graphic memoir written and illustrated by Marjane Satrapi about her childhood growing up in Iran during the Islamic Revolution in the early 1980s. The Revolution began in 1979 when a coalition overthrew the Iranian government and replaced it with a much more conservative regime.
The protagonist, known as Marji, must navigate these rapid changes while struggling to define her identity as a young girl. The search for an identity is challenging for all adolescents, but it's more challenging for Marji as she confronts divided views on the Revolution and finds many of her favorite aspects of Western Culture, such as Michael Jackson and Nike shoes, were now forbidden.
Marji was around ten years old at the start of the Revolution. When the new regime took power, many aspects of school became more strict, such as the creation of separate schools for boys and girls and the elimination of courses on Western language and culture. Women had to start wearing veils when they left the house. Marji resisted a lot of these changes, especially having to wear a veil. Her resistance showed through small but meaningful actions; for instance, she didn't wear her veil quite right by always having small parts of her hair showing. Despite her signs of resistance, Marji was personally very religious, even more so than her parents. She has a special relationship with God, who she often talks to as a friend and discusses her changing identity. Therefore, Marji was conflicted: while she herself was drawn to Islam, she despised the cultural changes brought about by the new Islamic regime.
Both Marji and her parents struggle with the changes that occur after the Revolution. Early in the story, when the Revolution is just beginning, it is obvious that Marji can not fully comprehend her country's situation. It is also noticeable that her parents are scared, as they are deeply involved in the movement against the regime. Marji's parents were equally disappointed with the outcome of the Revolution as they were with the former Shah, who was essentially a dictator propped up by the West. Both of her parents were very Westernized in the sense that Marji's mother did not wear a veil; both believed in secularism, keeping religion separate from government; they strived for Marji to get a university education; and they wanted her to have the freedom to live her life however she desired.
Later in the book, when Marji is in her early teenage years, she starts to understand much of what is happening in her country, while at the same time wanting to live her life as a normal teenager. It's then that her understanding and experiences start to affect her emerging identity. Marji finds herself constantly hiding her true self from the world. The family has hopes that the situation is going to blow over, but unfortunately it worsens to the point where it is no longer safe for Marji to stay in the country.
Reading this graphic memoir is like reading a dystopian novel in which events that take place can be so gruesome and horrible that you cannot believe that people actually experienced them. I found Persepolis compelling due to its ability to tell a story not just through words but also through pictures. The author uses the graphic structure of the book to portray emotions that one wouldn't be able to see or sympathize with if the book was written entirely in text. Whether Satrapi chooses to communicate happiness or misery, she expresses how she felt personally throughout the story and also provides a visualization to put the reader in her shoes.
Persepolis also provides a valuable perspective on the Islamic Revolution and Iranian people, while dispelling many racial and religious stereotypes. In the introduction Satrapi states that she wants to demonstrate to the world that ". . . an entire nation should not be judged by the wrongdoings of a few extremists." Her story does just that. I greatly enjoyed reading this graphic memoir and would highly recommend it to high schoolers. The book does require a general understanding of the Islamic Revolution and deals with some very heavy issues such as violence, torture, and war.