Book Review: The River
Reviewed by Ethan Powell, age 12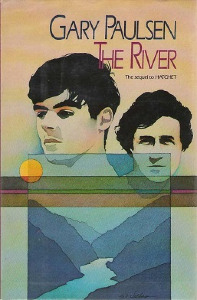 The River is the sequel to one of Gary Paulsen's most popular books: Hatchet . Hatchet is centered on the experiences of Brian, the thirteen-year old protagonist, surviving in the wilderness with only a hatchet for almost two months. The River follows the story of Brian two years later; U.S. government researchers want Brian to replicate his Northwoods survival tactics so that they can be observed and taught to others.
Derek, a young psychologist, and Brian are abandoned near a Canadian lake, armed only with knives and a radio that Derek has sworn to only use in an emergency. Everything is going swimmingly until their camp is struck by lightning, destroying the radio and leaving Brian confused in the middle of wilderness. The book carries on with Brian's struggle and journey to find a solution and civilization.
Gary Paulsen describes Brian's adventure in a creative and fun way. This is a novel that will make the reader sit on edge waiting to flip to the next page. This book is very intense and is an epic novel. If you enjoy books packed with adventure and action, I would definitely recommend reading The River by Gary Paulsen.