My Favorite Library: Fitchburg Public Library
by Amira Caire, age 13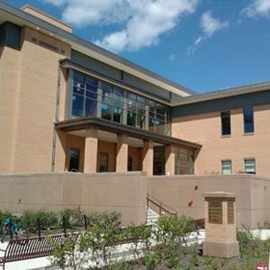 Ever since I moved back to Wisconsin, my family and I have been attending the Fitchburg Public Library. I came to love this library because it has great study places, friendly people, and a welcoming, and beautiful atmosphere.
This library also looks amazing on both the outside and the inside. It has a granite staircase and earthy color tones that create a casual and elegant feel. I find the whole building to be visually interesting. In particular, I admire the outside of the building. It has a very bright and modern look. Large sheets of glass form the windows and create breathtaking views inside and out. Come visit and you will love it, too.
Almost every day after school, my mom drives me and my brothers over to the library to do our homework. My brothers usually scurry off to one of the private study rooms. I normally find myself a quiet spot by a window. Doing my homework at the Fitchburg Library is much easier than doing it at home because I have my own space. It's quiet, and no one distracts me.
And the best part of all is that after I have finished my homework, I can go to the computer area and play games, chat with friends, or crack open a new book.
The Fitchburg Library has many, many books to choose from. They have novels, comics, biographies, and even books on languages and traveling. My favorite genres are romance, comedy, horrors, and thrillers. As you can see, I enjoy being entertained.
Not only does this library have books and computers, but it also has events for kids and teens. There is a writing group, teen library council, teen movie nights, and game tournaments.
I also love the location of the Fitchburg Library because before I leave for home, I usually get pizza from the Roman Candle across the street.
The Fitchburg Library is located in Fitchburg, near the corner of Lacy Road and Fish Hatchery Road. It is open Monday through Thursday from 9am to 9pm; Fridays and Saturdays from 10am to 6pm; and on Sundays from 1 to 5pm.
This is a really nice place. Visit the Fitchburg Library yourself. You will quickly see what I mean.