The Award-Winning Madison Central Library's Media Lab Is a Great Place to Make Book Trailers
by Ali Khan, age 16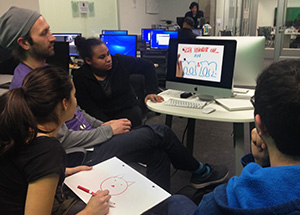 The Madison Central Library's $30 million renovations are changing the definition of a library from a quiet study hall to an incubator of ideas. Additions like the media lab help cultivate innovative ideas into forms of technology, design, art, and education.

Fellow Simpson Street Free Press staff writers and I have had the privilege to experience this technology firsthand, while storyboarding, filming and editing our own book trailers in the brand-new state of the art media lab. Within the lab, there are iPad stations, portable green screens, and computers with video software and editing tools.

The library has been named a 2014 Project of the Year by the Wisconsin chapter of the American Public Works Association (APWA). It is now competing for a top prize and nation-wide honors that will be announced later this month.

Architects Meyer, Scherer & Rockcastle of Minneapolis and Madison's Potter Lawson Inc., along with general contractor, J.H. Findorff & Son orchestrated the redesign.

"It has transformed into an accessible community treasure for generations to come," said J.H. Findorff & Son's Amanda Byrd.

Twenty new conference rooms, an art gallery, a community room with technological equipment designed for presentations, workshops, and hands-on classes, and enhanced spaces for children and teens are just some of the many improvements this library has undergone.

The media lab is a place where the community can utilize to create techn ological projects, including everything from graphic art to short films. I used the library's media lab to create my own book trailer about a novel I chose from the "Read on Wisconsin!" literacy program, administered by the University of Wisconsin-Madison's Cooperative Children's Book Center. I believe the book trailer program has not only allowed me to express my creativity in making this trailer, but has also taught me valuable technical and technological skills that will be a useful asset in future careers.
From professional equipment in community rooms to technologically-advanced media labs, the new Madison Central Library will make you rethink your definition of a public library.
[Source: Wisconsin State Journal ]
You can watch the book trailers made in the media lab by Ali and his fellow Free Press writers here!