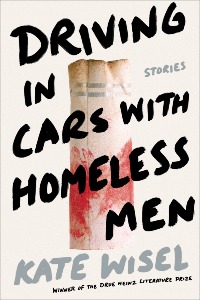 Author Min Jin Lee says, "You can hear the crackle of heat and the roar of a powerful fire burning..." through the pages of Kate Wisel's first short story collection, Driving in Cars with Homeless Men. Out of 530 applicants for the Drue Heinz Literature Prize, the Boston-born Monona writer won the honor along with $15,000 and publication by the University of Pittsburgh Press. The prize, one of the most prestigious in the country, was started by the former publisher of The Paris Review and co-founder of Ecco Press, Drue Heinz, in 1981.
This was not Wisel's first time being recognized for her writing. Her works have been published and featured by publications like Tin House and New Ohio Review.
Wisel first learned of her achievement while on the job at UW-Madison where she teaches writing. The news came as a shock; she described the feeling like being drugged or shot. "I was overwhelmed," she said. Her book was chosen by Lee, a National Book Award winner.
In Driving in Cars With Homeless Men, Wisel takes a trip back to her hometown of Boston, telling the narratives of women who are victims of violence.
She says, "These linked stories are set in the streets and the bars, the old homes, the tiny apartments, and the landscape of a working-class Boston… They are the collective story of women whose lives careen back into the past, to the places where pain lurks and haunts."
[Source: The Cap Times ]