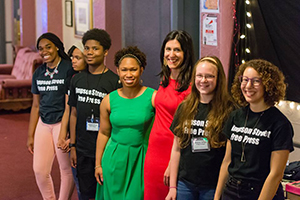 The Barrymore Theatre played host to special guests this past Mother's Day: Ann Imig and the cast of "Listen to Your Mother."
An annual production featuring local writers, authors, and performers, "Listen to Your Mother" celebrates mothers and motherhood. Each year, Listen to Your Mother selects one local non-profit to give 10 percent of their ticket sales. This year, they picked Simpson Street Free Press. Between ticket sales and post-sale donations, Listen to Your Mother awarded SSFP approximately $1,300.
Though its production has only run for six years, Listen to Your Mother is already a nation-wide event. The proceeds of each show are typically given to low-income families. This year's show was really fun to watch, especially because I could relate to many of the women on stage who were talking about their mothers. Some of the performances were funny, while others made me cry. I appreciated how the show represented different points of view about motherhood.
Capturing the shows' themes and messages, Imig also published the book Listen to Your Mother: What She Said Then, What We're Saying Now on April 7th, about a month prior to this year's show. I recommend the book to any mother, daughter, or person interested in motherhood.
Those who were unable to attend this year's show can view performances from previous Listen to Your Mother productions on youtube.com. You can also learn more about the Listen to Your Mother organization at listentoyourmothershow.com . We at SSFP can't wait to see what next year's show has in store!