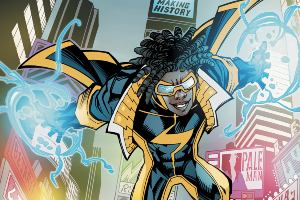 Milestone Media started writing comic books in 1993. Their focus was different from big publishers like DC Comics and Marvel.
In the beginning, they wanted to make more significant characters of color so minority kids had heroes to look up to that looked like them. Milestone tried to depict characters of all races with integrity and wanted more accurate descriptions of other races instead of the innocuous character of color that most comic books show.
They signed a publishing deal with DC Comics. According to Milestone Media, the deal stated that DC Comics "had the right to limited license of the characters, editorial works, and other creative content." Milestone had control over "merchandising and licensing in regards to properties they create." DC Comics was a bit uneasy about some of the topics Milestone Media covered but they continued to work together.
One of the founders of Milestone Media, Dwayne McDuffie, worked at Marvel in his early career but had disagreements about the work he was doing. McDuffie decided to develop a spoof glorifying what he saw wrong in the company, titling it Teenage Negro Ninja Thrashers . Later McDuffie took it further by starting his own company, Milestone to focusing on diversity in comics. This diversity included white, black, Dominican, and Chinese and many more races. Milestone Comics was known as one of the top black owned comic book companies in the Early 90's, but closed down in 1997.
In 2000, Dwayne McDuffie and Milestone co-founder Deny Cowan created a cartoon series with one of their most beloved characters, Static Shock. The show became a hit. and won many awards, including an Emmy and a Humanitas award. The cartoon's ratings were second to Pokemon and it was picked up by several networks.
On Feb 21, 2011 Dwayne McDuffie died during heart surgery. It was a sad loss for Milestone Media. In the years after McDuffie's death, Milestone had minimal press, and did not produce any new publications.
But in 2017, at New York Comic-Con, Milestone announced the rebirth of its comic series. They unveiled a lineup of both new and long beloved characters. All the stories will take place on Earth M, not to be confused with the main DC universe. Earth M will be a total reset of any Milestone storylines in the past.
Milestone also stated they won't be black, or brown, gay characters anymore because it's the "norm." "For us to repeat and rehash what was done before was not exciting to us." said Hudlin another co-founder.
Now is the waiting game. The new series are expected in spring of 2018.
[Sources: comicsalliance.com ; io9.com; milestonemedia.com ]