Book Review: Fast Food Nation

by Eric Schlosser

reviewed by Annie Shao, age 16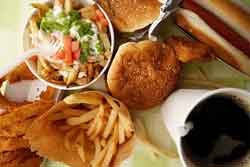 Unhealthy eating habits: the bane of the 20th and 21st century. Part of the reason for sky-rocketing obesity rates is the success of fast food restaurants. In Eric Schlosser's Fast Food Nation, he digs into all the terrifying facts about our country's system of food production. These are facts that large industries do not want the public to know.
Schlosser starts the book out by stating that if anthropologists in the future searched in even the most secretive places like a top secret military base, they would find evidence of fast food. He uses this to explain that "Over the last three decades, fast food has infiltrated every nook and cranny of American society."

According to Schlosser, whether one eats fast food often or if one avoids it entirely, fast food affects everyone. It has completely changed marketing, food production, and culture.
By adding his unique voice to the facts and statistics, Schlosser illustrates the history of fast food franchises, their effects on meat and potato production, and on people's lifestyles. He unearths the dirty details of how the meat in our supermarkets and restaurants is processed; the vile conditions of feed lots, the horrors of modern slaughterhouses, and how these unsanitary conditions contaminate our food. In addition to explaining the origins of fast food and where companies buy their food, he discusses their unwholesome recipes and the unfair working conditions of their employees. Many other issues are outlined in Fast Food Nation, including worker's rights, globalization, and marketing towards children, which Schlosser ties beautifully into the rest of the book.

Fast Food Nation is a highly informative, interesting and valuable read for any teenager. Readers will feel a multitude of emotions while reading this book; astonishment while reading about our country's history in terms of franchising businesses, fury while reading about the treatment of animals and employees at slaughterhouses, and disgust as they find out what exactly is in our food. They will feel like joining the fight against fast food in our nation.