I Have Always Liked the Central Library

by Max Lien, age 13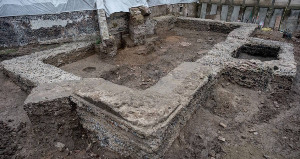 Ever since I was kid, the Madison Central Library has been my favorite library. My dad and I would always walk up the large staircase to the kids' section, and there, he would read out loud to me from a picture book. Some of my happiest childhood memories are of times I was at the library with my dad.

As I got older, I began to notice other things this great library has to offer. The Central Library has a vast collection of books of all kinds. In addition, they have a large collection of music and movies. With many seating areas, it's easy to find a comfortable place to sit quietly and read next to the windows.
The librarians are helpful and friendly, which makes this library even nicer. One time, I needed help finding a book that was not on the right shelf. A librarian took the time to thoroughly search through almost the entire section. She eventually found the book I was looking for.

Madison Central library is located on 201 W. Mifflin Street in Madison. It is open Monday through Thursday from 9am to 6pm, Fridays from 9am to 5pm, and on Saturdays from 1pm to 5pm.