Steenbock Library

by Aarushi Agni, Assistant Editor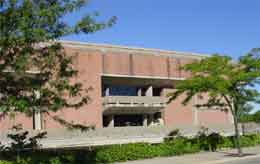 Although the Steenbock Library is not the closest library to my dorm, it is my library of choice on campus. Located right by the scenic lakeshore, the fifteen-minute long walk from the Memorial Union presents a feast for the eyes; the green is lush and the lake is calmingly clear. It's kind of like walking through an Impressionist painting.

When I first went to Steenbock, I didn't like it very much. Unlike the College Library, it is not equipped with a café, nor does it have the reputation of being the library where you'll meet your future husband. It does not have beautiful topographical maps to touch like the Geography Library. Compared to these other libraries that seemed to be brimming with people and energy, Steenbock seemed plain and boring because it is quiet, secluded and simple. But sometimes, something's greatest flaw is really its greatest asset. It is exactly these aspects of the library that make it my favorite.

For one thing, it is perfect as far as sound is concerned. Since the library is not super busy, it is never too loud. Because the tables are evenly spaced, people can comfortably have conversations if they need to, without incurring dirty looks from everyone else in the room. It is quiet enough however that one feels at peace enough to power through a rough assignment.

Its relative seclusion from the rest of the campus reinforces the fact that studying is a task. To go to Steenbock, you have to set aside time to make the journey and really commit to the task at hand. In other libraries, it's easy to get distracted by the coffee, board games, and huge open computer labs, not to mention all the people that you know. While Steenbock has similar facilities (it has a table with puzzles on it!), it does not let its fun perks get in the way of the real work that needs to be done. Its simplicity allows you to shut yourself off from the world around you and broaden your mind through the act of studying a subject in depth. In short, Steenbock allows you to get in the zone.

Its extensive collection of life sciences related books, along with other specialized collections and government documents, make it possible to write a paper solely from resources found within the library (or just to spend a leisurely afternoon reading about something you've never heard of). The library was named after Dr. Harry Steenbock, who discovered a method for enriching foods with Vitamin D in the 1920s, helping to eradicate rickets. He supplied about half the funds for construction of this library, which is associated with the College of Agriculture and the Life Sciences, the School of Human Ecology, the School of Veterinary Medicine and the UW Extension School.

I hope you will take the time to explore Steenbock Library. I have gotten lost in its stacks (shelves) on numerous occasions. It is a great place to go to clear your mind and introduce yourself to new ideas. Now that school's out, I have the time to sit in Steenbock and read for a day. Located on the corner of Babcock and Observatory Drive, Steenbock is open from 8 AM-6 PM Monday through Friday in the summer, and during the semester, it is open from 8 AM to 1 AM Monday through Thursday, 8 AM-10 PM Fridays, 10 AM-10 PM Saturdays and 10 AM-1 AM on Sundays.