My Favorite Library: Sun Prairie
by Patricia Cazares, age 13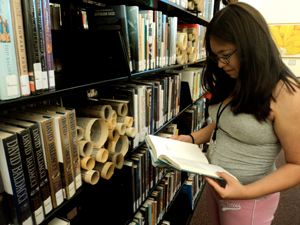 The Sun Prairie Public Library is one of my favorite libraries to visit because it's so big and beautiful. When I enter the building, the atmosphere is welcoming and it makes me feel at home.
One of the first things that catches my eyes is one of the areas I enjoy most: the entrance to the children's area. It is made up of a wall that looks like a big tree with two archways: one for taller, older kids to walk through and one for younger kids. The children's area has many things you don't usually see in libraries such as shelves shaped as animals, computers for older kids to use, and puzzles. The section I think is especially cool was called the porch, a spacious private room with big windows that present a peaceful view of the quiet fields beside the library. There are also several comfy rocking chairs to sit on and a table stacked with Legos for kids to play with.
While walking around the last time I went to visit the Sun Prairie Library, there was something different about it. I was amazed by the things that I saw, particularly the art; this was not just any art. It was waxed dictionary pages turned into scrolls. These scrolls were made by the Arts-Tribe, a group of Wisconsin artists that come together each year to create art based on a new theme. This year's theme is called Cover to Cover. All the members of the Tribe made unique book-themed art and displayed them throughout the library. I found some of these scrolls between the books, on top of the bookshelves, and on magazine racks. There were also a variety of paintings and sculptures on the walls and set atop shelves. Unfortunately, the exhibit has moved from this library, but it can be found at other area libraries for several more months.
The Sun Prairie Library has hundreds of books, a CD section, magazines, and desks in the corners for people who want to sit and read or study.
If you would like to visit this fun library, drop by at 1350 Linnerud Drive or call 608-825-7323. They are open Monday-Thursday from 9am to 9pm, Friday and Saturday from 9am to 5pm, Sunday from 1pm to 5pm, and are closed on holidays. If you visit, you will have a great opportunity to make the Sun Prairie Pubic Library one of your favorites too. To learn more about the Arts-Tribe, check-out fellow Simpson Street Free Press reporter Alex Lee's article on the Cover to Cover exhibition.