My Favorite Library is the Verona Public Library

by Cecilia Gonzales, age 15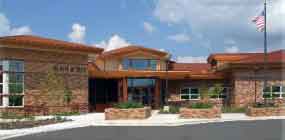 Verona Public Library is my favorite library to visit. Located on 500 Silent Street, it is right by the Verona Area High School. This is a new library that was recently opened in 2006. It is a very open and welcoming place.
The colors of the walls in this library actually make you want to read. Unlike our old library, which was painted in really dark grays and hardly had windows, the new library has enormous windows letting in the sunlight. Walls are painted in lively reds and oranges.
This library is spacious, so everyone can spread out and read or work on whatever they please. Also, the library is equipped with a classroom-sized computer lab. While many libraries just have a few computers out, the Verona Public Library has about 30 computers in one room.
The Verona Public Library has many different sections. One section of the library is devoted only to children's books and toys. There is a quiet room where people can read magazines, newspapers, or books. There is also a multimedia section where you can rent CDs and movies. Overall, the library is large enough that people can easily have conversations without disturbing other patrons.
When I go to the library, I usually just go to study. I like this library because right after school, I can go directly to the library and do my homework. Its close proximity to my school allows me to meet up with friends to study together.
Many times last summer, I would walk to the library with friends; we would go on the computers or read books. It is a perfect place for young people to spend quality time.

The Verona Public Library is a good place to go if you live in Verona or Fitchburg. Its hours are from Monday through Thursday 9am-9pm, Friday 9am-5pm, and on Saturday from 9am-4pm.