The Outcast of 19 Schuyler Place

by E.L. Konigsburg

reviewed by Helen Zhang, age 12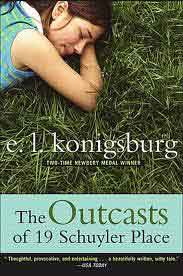 The Outcasts of 19 Schuyler Place written by E.L. Konigsburg tells a story about one girl, Margaret Rose Kane, and her mission to save three towers her uncles fondly constructed over a span of 45 years.

The year Margaret turns 12 is the year that her normal routine is broken. Her parents go to Peru and her beloved uncles refuse to take her in over the summer. So, Margaret chooses to go to Camp Talequa.

At Camp Talequa, it is expected that all the members will obey the instructors and be polite to others. Instead of blindly agreeing with what adults say, she decides there are many camp expectations she would "prefer not to" meet. However, Margaret has never been to camp before, making her an outsider and a perfect target for girls that have already experienced camp life. Her campmates bully her and get her into trouble with camp instructors.

After being tormented, Margaret starts to isolate herself even more from camp activities, causing the camp director, Mrs. Kaplan, to dislike her. After getting a call from Mrs. Kaplan regarding Margaret's uncooperative behavior, her uncles decide to bring her to their home at 19 Schuyler Place.

At her uncle's house are the three towers that the uncles constructed over the past 45 years. Considered a masterpiece by artists and a redundant structure by city officials, the towers are created out of scrap metal, shards of glass and porcelain, and clock gears.

When Margaret arrives back home, she discovers that her uncles have fought a three-year battle with the city over the safety and historical integrity of the towers. Now, the towers are scheduled to be torn down.

When Margaret learns that her cherished towers are being demolished, she is outraged. Along with some adult advocates for the towers, she forms the CPC, Cultural Preservation Committee, to save the towers. Margaret's job-- stop the destruction.

In this book, Margaret learns about the struggles and responsibilities of becoming an adult. I highly recommend this book to other teenagers. The plot was riveting and well-written. I imagine that many teenagers at the same age as Margaret would be just as rebellious and solitary as she is. I think this makes the book very easy to relate to. I believe that this book is targeted at middle school students. The vocabulary used in the book was age-appropriate, but also challenging.

I think that by reading this book, teenagers will view differently the difficult process of growing up.