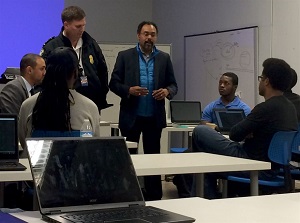 In the world of technology, black Americans are at a disadvantage. According to Information is Beautiful , an online infographic text, there are significantly fewer black Americans than white Americans working in the top U.S. companies. This statistic is evident in the texts list of the racial diversity in said companies, including Instagram , YouTube , and Google .
For example, Information is Beautiful 's list reported that only one percent of employees at Pinteres t and Nvidia are black. Comparatively, Amazon had the highest percentage of black employees: a paltry 15 percent. Overall, 12 percent of employees in the top 50 U.S. companies are black, while only five of the 500 Fortune 500 CEOs are black.
Fortunately, there are people trying to rectify this. Rodney Sampson, for instance, is the creator of a program called "Code Start." He calls this program "an experiment on whether or not we can take 'disconnected youth' who've been labeled by the system, and teach them to be a junior level software engineer or developer."
Code Start provides free training for young, low-income black American adults, who have graduated high school but have not yet enrolled in college. However, it is also challenging; participants must learn the entire program curriculum in one year.
Sampson's program also encourages participants to start their own businesses. Students are prepared not only to do the job but also to get the job: the program is specifically designed to help students prepare to apply for a job, by including lessons in resume writing and other 21st century skills, that is.
Code Start and others further recognize that the racial gap in the field of technology is more than not having the right set of skills.
"So you have an institution that's largely homogenous and you may have the skills to get in there, but they're going to say you're a bad cultural fit," said Michael Street, who has a group similar to Sampson's called "Black Men Code," at Morehouse College. "It's really, I mean, a massive challenge because these companies have been making billions and billions of dollars operating in the way they've operated," Street added.
Street also said that his students face bias in everyday life. The students of Code Start have experienced this, too. One student in this program was arrested for trying to cash in his stipend, for example. Sampson was called in to verify that he did, in fact, give the money order to his student.
Despite problems like this, Sampson refuses to give up. "What we're realizing is that [young black students] they're not just hacking the tech industry," Sampson said. "They're learning to hack themselves and changing the perspectives of how other people see them."
[Sources: NPR ; informationisbeautiful.net ]