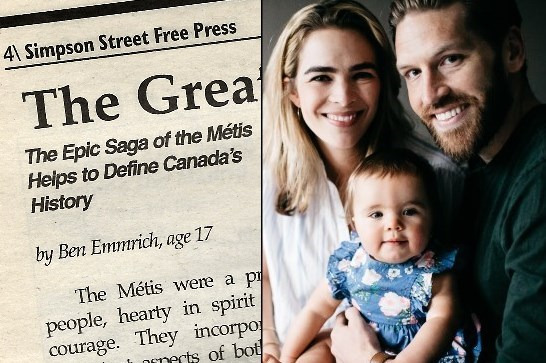 Simpson Street Free Press is flourishing. Our organization contributes to civic discourse and the greater Dane County community. SSFP students turn out quality articles and explore the world around us. We also know there were many dedicated student reporters who came before us.
It's not surprising that such an acclaimed organization has seen its students lauded before. One such former writer is Ben Emmrich. Emmrich was a student reporter and teen editor here at Simpson Street from 2002 until 2004. So, as a current teen editor, I decided to touch base and thank him for a generous donation to SSFP. It means a lot to us when former students recognize our work.
Ben Emmrich worked at Simpson Street when he was younger. He is now happily married to Kaili Emmrich, and currently has his hands full with a new daughter. The Emmrichs recently made a generous donation of $10,000 to Simpson Street. Google, the company Emmrich works for, heard of his contribution and decided to match his donation, resulting in a grand total of $20,000.
But why did Emmrich choose to donate to Simpson Street after considering other options? It came down to giving back to the community where he grew up. Emmrich trusts Simpson Street, and he knows first-hand what the money goes towards—directly into the program, with no loopholes and marketing involved. Dane County has challenges with its education gaps, Emmrich said, and "Simpson Street steps up to fill those voids in education."
Emmrich was introduced to Simpson Street by his neighbor, who was coincidentally a staff member at Emmrich's school, McFarland High. After he started writing for SSFP, a volunteer editor, Betty Kramer, encouraged him to dig deeper into sources, ask questions, and engage in the topics he was writing about. This made Emmrich even more interested and involved at SSFP. "Betty's an incredibly woman," Emmrich remarked. "She taught me skills I still use today."
Emmrich says he was always a history buff. He wrote a captivating series about the Blackhawk War of 1832, which occured partially in our home state of Wisconsin. His series was picked up and republished by news outlets throughout Wisconsin and Illnois.
Emmrich mentioned that Betty and other SSFP volunteers often took Simpson Street students on tours of historic sites and art museums throughout the state of Wisconsin. He says these opportunities significantly impacted his writing. Already a fan of history, Emmrich explained that field trips with Betty further encouraged him to write a history-based series that is still discussed in our newsrooms to this very day.
Besides expanding his knowledge of and love for history, Emmrich said Simpson Street taught him valuable life skills and the importance of education. "I learned to stick with a project until completion. I learned that attention to detail and willingness to revise and check facts made me a better reporter."
Emmrich said, "Simpson Street made me a problem-solver." When facing a topic, writers come face to face with ambiguous ideas. Writing, Emmrich said, forces a student to break down complicated issues into "more tackleable pieces," a skill that is applicable in all areas of life.
"Simpson Street also made me an advocate for doing homework and studying," Ben Emmrich continued, highlighting his belief that students need the opportunity to read and write "deeply," tasks that are not only crucial, but also require the proper space, help, and time. "SSFP offered that," Emmrich reiterated.