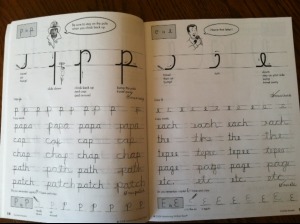 Wisconsin has joined a growing list of states pushing to bring cursive lessons back into elementary school classrooms.
Republican legislators on Wisconsin's education committees have submitted a proposal that would make instruction in cursive a requirement for children in public schools, independent charters, and private schools in the state's voucher programs. The effort has bipartisan support as several Democrats have signed on as sponsors of the proposed legislation.
If passed, children across Wisconsin will have to achieve proficiency in cursive by fifth grade, with the ability to read and write it legibly.
Proponents of the bill maintain that the benefits of learning cursive are not just sentimental; it's practical.
Rep. Jeremy Thiesfeldt, R-Fond du Lac, chairman of the Assembly's Education Committed, claims that cursive is a more efficient alternative to print handwriting. He believes that proficiency in cursive would encourage students to take notes by hand, instead of typing them, which "can lead to better comprehension and understanding of material."
"The use of cursive also requires a higher level of hand-eye coordination, which can be particularly helpful for younger children," said Thiesfeldt.
Thiesfeldt feels confident that the bill will pass because Senator Luther Olsen, R-Ripon, chairman of the Senate Education Committee, is sponsoring the proposal as well.

On November 6th, the bill was discussed at a meeting of the Assembly State Affairs Committee. Concerns were raised from both sides of the aisle. Rep. Christine Sinicki, a Democrat from Milwaukee, raised concerns with the cost of the bill. And Rep. Tyler Vorpagel, a Republican from Plymouth, felt the state kept adding too many requirements to what is taught in schools.
"I just struggle with again adding another mandate from us on top of what we already do," Vorpagel said at the meeting.
Several Democrats and several Republicans also spoke in favor of the proposed bill.

Currently, cursive instruction in Dane County varies depending on the school district. The Sun Prairie schools teach cursive from third grade through fifth grade, students in the Monona Grove School District learn it in fourth grade, and Madison schools include cursive as part of their curriculum in second and third grade. The Middleton-Cross Plains School District removed cursive from its curriculum six years ago on the recommendation of elementary school staff; however, teachers can still opt to teach students how to read cursive.
The Wisconsin Association of School Boards (WASB) has come out against the bill. Dan Rossmiller, their director of government relations, noted that "in general, the association opposes educational mandates written into state law."

Rossmiller has some reservations about the bill. "Is that something employers are demanding their prospective employees learn? I don't know," he commented regarding cursive instruction. "I would think they probably would be more interested in whether they can keyboard or not."
[Sources: Wisconsin State Journal; Milwaukee Journal Sentinel; Madison.com; Associated Press]