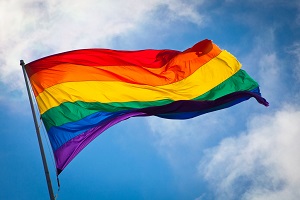 Imagine growing up struggling with your sexual or gender identity. Coming to terms with who you are can be difficult—especially when you find yourself battling the opinions and beliefs of the people around you. Eventually, you might figure it out. However, whether you identify as lesbian, gay, bisexual, pansexual, asexual, transgender—you crave acceptance from your family, friends, and society. After all this questioning, you may decide you're ready to come out. You tell your family about your identity. However, they don't accept you and kick you out, leaving you homeless.
Homelessness among LGBTQ youth is a huge problem. In fact, according to True Colors Fund, 40 percent of homeless youth in America identify as LGBTQ, or queer. LGBTQ stands for lesbian, gay, bisexual, transgender, and queer/questioning, although many other gender and sexual identities also exist.
Homelessness among LGBTQ youth is mainly due to family conflict. After coming out to their parents, half of all teens report getting a negative reaction, and more than one in four are kicked out of their homes. In addition, 42% of LGBTQ youth report that the community in which they live is not accepting of queer people. Other reasons for homelessness in LGBTQ youth include poverty, aging out of the foster care system, and abuse.
Homeless youth who identify as LGBTQ have a much greater risk for victimization, mental health issues, addiction, and survival prostitution. According to an article by Gabe Kruks, former chief operating officer of the Los Angeles Gay and Lesbian Community Services Center, homeless gay youth "are more likely to engage in survival sex (prostitution) than their non-gay male counterparts."
While 99 percent of U.S. service providers work with queer youth, the juvenile justice, child welfare and healthcare systems don't account for the special circumstances of each child. And while homeless LGBTQ youth generally have the same needs as their non-queer counterparts, they also have additional needs specific to their identities. For example, two of the most important needs for homeless queer youth are safe housing and identity-related supports. Often, service providers can't meet those needs. Homeless transgender youth have even more difficulty because they often have unique health needs. To make matters worse, some clinics and healthcare providers refuse to treat minors without parent/guardian consent, which makes it impossible for homeless queer youth to receive care.
So where does this leave you? Alone on the street, fighting problems all on your own. You might resort to selling drugs or your own body in order to survive, like so many other homeless LGBTQ youth.
All of this needs to change. It is extremely important that parents learn to accept their children for who they are, before they lose their kids for good. Service providers must make the effort to accommodate homeless queer youth and connect them to the resources they need to stay healthy and safe. Together, we can create welcoming communities for the LGBTQ youth who face rejection from their loved ones.
For more information on homelessness, go to promisehouse.org. If you want to learn more about LGBTQ homelessness, go to safehorizons.org, hrc.org, and truecolorsfund.org.
[Sources: truecolorsfund.org; www.hrc.org; Gabe Kruks]