Madison Schools Announce Plans to
Embrace the Science of Reading
by Josepha Da Costa, age 15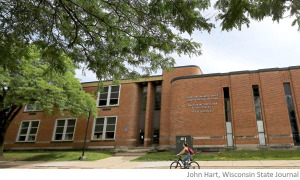 Madison school officials plan significant changes in reading and literacy instruction. District administrators presented the proposed changes to school board members at a recent Board of Education meeting and signaled a shift toward phonics and the science of reading.
MMSD's Chief of Elementary Schools, Carletta Stanford, acknowledged, "We know that what we've done in the past has not exactly hit the mark for where we want to be in terms of closing gaps."
During the meeting Stanford explained recent research and discussed the expert advice that is helping school officials guide the pivot to a more science-based approach to literacy. Stanford referenced specific research findings stating that "early intervention is critical" and there needs to be "intentionality in explicit reading instruction."
Lisa Kvistad, Assistant Superintendent for Teaching & Learning, told board members the district plans to "move forward now that we've gone through the data" and called the planned changes "an equity imperative."
Most experts agree phonics instruction helps produce skilled readers, but how much phonics should be emphasized continues to be the subject of national debate . In 2020, however, the Wisconsin Department of Public Instruction (DPI) took the unexpected step of saying phonics should be taught in an "explicit and systematic" manner.
"While not everyone tends to agree, some would argue that the research is becoming fairly settled," said Sheila Briggs, DPI's assistant state superintendent . "You really need to (teach phonics) in an explicit and systematic manner, not just as it comes up or sprinkled here or there."
Many researchers and literacy experts say that's exactly what the so-called "balanced literacy" approach does—sprinkle in some phonics instruction here and there. This balanced approach to literacy has been used in most MMSD classrooms for years.
School administrators talked at length during a November board meeting about balanced literacy and explained their decision to pivot to a more science-based approach. School board members applauded the move and emphasized the importance of early literacy.
New school superintendent, Dr. Carlton Jenkins, told school board members he was "willing to die on the cross over this" issue.
"Now, we're coming to a new understanding," Jenkins said. "There's no reason children, all children, should not be able to read. It is their right as an American citizen," he said.
The comments by Jenkins at the board meeting echoed earlier statements the new superintendent made during a podcast interview with Simpson Street Free Press student reporters. Jenkins told Free Press students in September that "across the nation we have fallen behind with reading."
"Language itself has to be broken down and there is a science behind teaching it," Jenkins said in the podcast. "There must be a heavy emphasis on people understanding the science of reading and the professional development being provided, particularly with our teachers."
"I'm going look at what's already here, work with staff, and together we're going to come up with a plan. We won't be where we are right now, I can tell you that," Jenkins said.
[Sources: Wisconsin State Journal; Simpson Street Free Press; MMSD; Hard Questions]