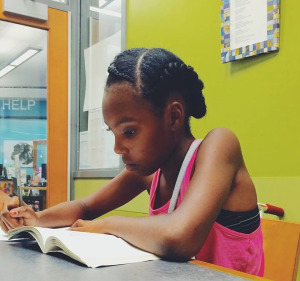 Legal experts and literacy advocates say a recent 6th Circuit Court of Appeals decision may have significant implications in school districts and communities across the country. From Rhode Island to California, and in many states in between, lawsuits and court battles are poised to change fundamentally how Americans view student rights to literacy and education.
Local legal experts say public schools in Madison and the State of Wisconsin will soon grapple with the impact of these court decisions and legal arguments.
--------------------
A recent 6th Circuit Court of Appeals decision says the ability to read and write is "essential" for a citizen to participate in American democracy. The court reasoned that a person cannot effectively vote, answer a jury summons, or pay taxes if illiterate. Judge Eric Clay wrote for the majority, "when a group of children is relegated to a school system that does not provide even a plausible chance to attain literacy, we hold that the Constitution provides them with a remedy."
After the 6th Circuit's decision, the State of Michigan chose to settle the case rather than appeal it before the U.S. Supreme Court. The settlement requires Michigan to invest in literacy education programs and funnel additional resources to troubled schools in Detroit.
Mark Rosenbaum, one of the lead attorneys for the Detroit students, argues that this case could have implications for all U.S. students who lack access to basic literacy.
"It sends a powerful statement across the country," Rosenbaum says. "It's a victory for all children who deserve a basic, minimal education."
--------------------
A similar legal case is playing out in Rhode Island. This lawsuit was filed by Rhode Island public school students seeking to affirm a constitutional right to a civics education.
In a hearing last year before U.S. District Court Judge William Smith, attorneys for the students argued that Rhode Island is failing students by not instructing them in the values needed to participate in a democratic society—an argument similar to the one used in the 6th Circuit lawsuit.
Jennifer Wood, one of the lawyers representing the students, told the Providence Journal, "We were extremely heartened" by 6th Circuit's decision in the Michigan case.
"We think it's critically important that another court of appeals has now written a well-researched decision that upholds the right of public school students to an education under the Constitution," Wood said.
A number of school districts in Wisconsin, including Madison, have waived a required civic education exam amid the COVID-19 health crisis and resulting school closures.
--------------------
In a recent California case, students sued the state arguing California had not done enough to ensure students learned how to read and won a $53 million settlement intended to help troubled schools.
Los Angeles County Superior Court Judge Rupert A. Byrdsong ordered state officials to present a $50 million block grant program to facilitate literacy programs and additional reading support in area public schools. The settlement also provides $3 million to appoint a statewide literacy leader.
One plaintiff in this lawsuit was 11-year-old Katie T. of La Salle Avenue Elementary. When Katie completed fifth grade, she could only read at a beginning third grader's level. Only 8 of the school's 179 students scored proficient in reading on 2016 Statewide Assessment Exams, according to the lawsuit.
The California plaintiffs had sought to establish that the state's constitution guarantees all students the right to quality instruction in reading and writing. By settling the case, California officials avoided a legal judgment that might have set a costly precedent. According to the agreement, the settlement money must be used to identify causes of poor academic performance and to develop high-quality literacy programs.
--------------------
A new legal article was recently published in the influential New York University Review of Law & Social Change. Mckenna Kohlenberg, a UW-Madison law student and education Masters candidate, titles her article Booked but Can't Read: "Functional Literacy," National Citizenship, and the New Face of Dred Scott in the Age of Mass Incarceration. Kohlenberg uses the case study of Madison and examines reading outcomes among students attending the city's public schools.
"Booked but Can't Read" uses some of the same legal arguments as attorneys in the Detroit right-to-literacy case. While numerous previous suits argue for state-constitution based education rights (like the California case), Kohlenberg instead focuses on establishing the right for all students throughout the country through the U.S. Constitution.
Kohlenberg's legal argument uses the 14th Amendment but focuses on the Citizenship Clause rather than the Equal Protection Clause, as some previous lawsuits have done. She argues that "the Citizenship Clause ... authorizes and mandates Congress to guarantee a meaningful floor of adequate functional literacy instruction nationwide."
Closely examining local statistics, Kohlenberg calls current outcomes an "illiteracy-to-incarceration pipeline."
"If this academic year mirrors the past 12 in Madison, the vast majority of the 166 Black boys who began fourth grade in the city this past fall are now members of a discrete class that is more likely to spend time incarcerated than to become functionally literate in school," according to Kohlenberg.
Kohlenberg's paper further asserts that "the nation's racialized illiteracy crisis persists [but] spurs little policy action."
Wisconsin-based attorney Jeff Spitzer-Resnick, who specializes in education law, agrees with Kohlenberg. He says the Kohlenberg article "predicted the 6th Circuit outcome."
"The 6th Circuit's analysis was an excellent one" Spitzer-Resnick said in an interview with Simpson Street Free Press. "Our education system is failing these students and nobody is being held accountable."
"Access to literacy is not just the cornerstone of education, [but] it is the cornerstone of our democracy" says Mark Rosenbaum, an attorney who helped argue the lawsuits in both California and Detroit.
[Sources: The Washington Post; Providence Journal; NPR; Detroit Free Press; CNN.com]