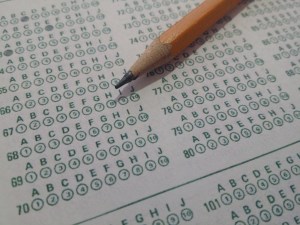 New York State recently eliminated a controversial teacher-screening test due to the disproportionate failure of black and Latino candidates.
The exam, known as the Academic Literacy Skills Test, is formatted similarly to the SAT, ACT, and GRE and is designed to measure the reading and writing skills of incoming teachers. Instituted by the state is Board of Regents, the test was created as a response to the education reform movement's concerns of low teacher standards within schools. Backers of the test say that it eliminates teachers who aren't strong students.
Opponents of the test, however, feel it does not adequately measure teachers' competencies and are concerned about the racial disparities in performance. On average, only 46 percent of Hispanics and 41 percent of blacks pass the test, compared to the 64 percent of whites who pass it.
In a 2015 lawsuit, a federal judge ruled the teacher-screening tests nondiscriminatory. Still, many education experts still feel that these tests have inherent flaws.
"Having a white workforce doesn't match our student body anymore," said Leslie Soodak, professor of education at Pace University who served on the tax force that reviewed certification tests.
Kate Walsh, President of the National Council on Teacher Quality, acknowledged these concerns but told The Associated Press, "There's not a test in the country that doesn't have disproportionate performance on the part of blacks and Latinos."
She believes that eliminating the test would be a "crying shame."
Other opponents of the test are concerned about its steep price tag. Many education professors believe it doesn't measure anything differently from other required standardized tests, and the $131 price tag is an unnecessary expense.
According to Michael Middleton, Dean of the Hunter College School of Education in Manhattan, "It's [the test] that looks like it's the least related to the actual work that teachers do day to day."
Soodak told The Associated Press that the test is necessary and the answer to curbing poor teacher performance. "We want high standards, without a doubt," she said. "Not every given test is going to take us there."
[Source: The Associated Press]