State Plans Switch to Biomass at UW-Madison Power Plant

Conversion of Charter Street Facility Also Brings Questions

by Chantal Van Ginkel, age 18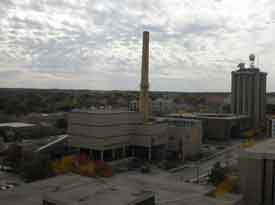 Black clouds from a coal-fired power plant on Charter Street help create an ever-expanding carbon footprint in downtown Madison. But this bleak image of a coal-fired power plant on the University of Wisconsin-Madison campus will soon change. The power plant, built in the 1950's and now powering the 42,000-student campus, is currently being converted to be more environmentally-friendly.
This change is monumental: instead of coal, the plant will burn biomass products such as wood chips, pelletized paper, wood waste, agricultural crops, yard waste, and old tires. A complete list of what fuel the new plant will use has not been determined.
Because biomass can be burned continuously, it is often considered Wisconsin's most promising source of renewable power. When compared to coal and natural gas, biomass produces the least amount of CO2. Continuous burning makes it more reliable than wind or solar power.
The plant is being converted in response to a Sierra Club lawsuit over air pollution. In 2008, Governor Jim Doyle pledged to stop burning coal at the Charter Street plant. By 2013 the state will rely heavily on biomass to supply power and heat to UW-Madison.
But there are downsides to converting any power plant to biomass. The upfront construction cost in this case is roughly $250 million, much higher than alternatives such as natural gas. There is currently no infrastructure to process the eclectic mix of fuels the plant will burn.
"The goal is to reduce our carbon footprint," said David Helbach, a former utility executive and administrator of the Division of State Facilities. "[But] obviously there is a risk for us: we may very well be spending more to reduce our carbon footprint."
If biomass resources have to be transported to the plant, there will likely be a sharp increase in truck and train traffic, according to Steve Hiniker, executive director of 1000 Friends of Wisconsin, an environmental group. The UW-Madison campus site is small and in the heart of Madison. For this reason, experts at the plant want to work with a third party, such as a farm cooperative, that can supply trainloads of material to the downtown. Experts say that biomass facilities should always be within 50 to 75 miles from their fuel source. Distances greater than that can render the process ineffective because pollutants emitted from transporting the fuel offset the benefits of using biomass.
Companies and plants elsewhere have tried to switch to biomass, using materials like paper and switchgrass. But, because of expenses, many plants switched back to coal.
The UW-Madison plant, however, is not simply making a switch. State officials say they are in it for the long haul. "We are not just building a power plant," said Helbach, "we are trying to jump-start the biofuels market."
[Sources: Milwaukee Journal-Sentinel; Wisconsin State Journal; Isthmus]