Pebble Plants Conserve Water While in Disguise
by Jose Pedraza, age 15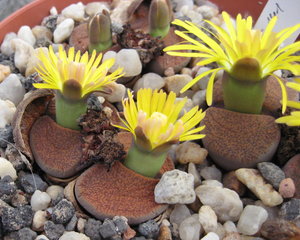 Many animals camouflage themselves to ward off predators. But animals are not alone in this ability. Some plants camouflage themselves as well. The Lithops plant is one of a few plants that not only blends in with a particular rock formation but also adopts the rock's color and texture.
The Lithops plant is known as the pebble plant or living stone. The word Lithops is derived from an ancient Greek word meaning stone. Lithops are succulent plants that blend in with surrounding rocks to avoid being eaten. The stone leaves a bloomed leaf buried below the surface of the soil. This sneaky plant blends in so well with the stony background that it may only be spotted in the flowering season.
The pebble plant conserves water by fusing two leaves to form a sphere. This is a formation that mimics the surface area exposed to the sun, while maximizing the volume. These leaves pack in a lot of moisture and sugars. This allows the plant to survive days in arid conditions.
Lithops are scattered across vast desert areas in Namibia and South Africa. They can be found bordering Botswana and Angola, in areas where there is not a lot of water. A few of these plants rely on dew formation for moisture, because temperatures in these areas are hot in the summer, and cool to cold in the winter.
[Sources: Nature's Masterpieces: The Earth, Its Wonders, Its Secrets]