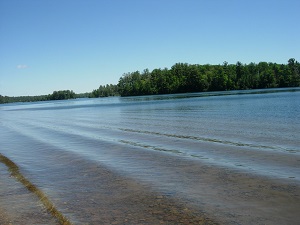 Over the past year, Wisconsin has revised dozens of permits for high-capacity wells, allowing for an additional billion gallons of groundwater to be extracted. Recently, Wisconsin legislature passed a bill essentially removing the Department of Natural Resources' permit checks when wells are repaired, rebuilt, or transferred.
High capacity wells were first implemented in Wisconsin during the 1940's. A boom in agriculture over the past few decades led to an increase in their number from 6,000 wells in 1990, to 12,700 today.
Most of these wells are located in the Central Sands region of Wisconsin. Because the sandy soil here doesn't retain water, potato farms in this region demand large-scale irrigation.
The Central Sands region is also home to a Class I trout stream and over 300 lakes that the DNR said could be potentially damaged if too much water is drained.
Farmers and legislators argue that increased pumping is necessary for Wisconsin farming practices and there's no evidence that the wells contribute to surface water drying.
Senate Majority Leader Scott Fitzgerald authorized the bill. Fitzgerald said legislators need to support farming, an industry that employs over 400,000 people in the state.
Paul Zimmerman, governmental affairs director for the Wisconsin Farm Bureau Federation, said increased well-pumping is a necessity since rainfall isn't reliable for large-scale farming operations.
Conservationists disagree with this claim, however, citing a recent study by the U.S. Geological Survey on well effects on a river in the Central Sands Region. The study found links between the river and groundwater system, thus making the body of water susceptible to draining if over-pumped.
Environmental groups and politicians are now concerned that this bill and the increased demand for water during growing season could have potentially catastrophic environmental effects. This puts commercial ventures like environmental tourism and lakefront properties at risk, as waters recede and wildlife populations dwindle.
Paul Van Houten, a resident of Wisconsin's Central Sands Region, said his lakeside home has seen the shoreline recede by 20 feet in 10 years because of high-capacity wells.
" I don't recommend buying property up here to anybody," said Dale Brunner, another Central Sands resident whose lakefront property has seen a 30-foot shoreline recession. "The [field] sprinklers are going 24 hours a day, even in rain. But who do we got to fight for us?"
[Sources: Associated Press; The Washington Times; Wisconsin State Journal]