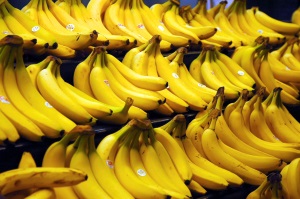 Bananas are not just a healthy food and good source of potassium in people's diet. They can help humans in other ways too. For example, bananas can be used for electrical wiring and cosmetics.
Another good example: bananas can help prevent damage to various plants caused by global warming. For instance, the best coffee in the world is shade grown Arabica coffee. Unfortunately, the Arabica fields have shrunk dramatically due to a warming climate, and soon the coffee might become a scarce delicacy. However, there is a hope for the coffee plant. The banana plant can help coffee farmers by providing shade and protecting their plants from specific coffee plant diseases.
Elif Biglin, a high schooler in Turkey, also found an alternative use for banana peels. She realized that you could make bioplastic out of them. The bioplastic can be used for electric wiring and cosmetic prostheses.
Another important plant is the potato. Potatoes rank as the third most important food crop in the world. Potatoes are eaten by over 1 billion people worldwide. Although potatoes are important, they can also die when temperatures get too high. Recent studies have proved that bananas could replace potatoes as third most important crop, because they are already consumed by over 400 million people.
As you can see, bananas are far more than what meets the eye. Used creatively, they could be a solution to many of our problems.
[Source: The Next Big Thing]