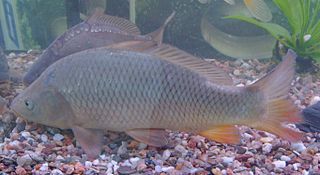 Carp, a non-native species of fish, are polluting lakes and marshes almost everywhere in North America. Fast growing aquatic creatures, carp can reach 10 to 11 inches, outgrow their predators, and live for decades.
Locally, carp are overwhelming the Yahara Lakes of Dane County. In addition, 25% of the Cherokee Marsh has been destroyed because of carp. This is potentially disastrous because marshes must be healthy to keep farm runoff from polluting lakes. Furthermore, carp in lakes are digging up the nutrients from the water's bottom, therefore causing the water to be muddy and breaking up its chemical balance. Due to the invasive fish, Cherokee Marsh has become an eroded and receded area. In fact, it is now more like a lake.
Since he was elected to the Dane County Board, Dane County Clerk Scott McDonell has made it a priority to clean the lakes of Wisconsin. He wishes that citizens can once again swim in local lakes without fear of pollution. "I'd like to get back to the days when kids swam on the beach of our lakes," McDonell said. "They didn't go to Goodman pool, they swam in the lakes. And I think we should get back to that," he added.
In late 2013, the fight against carp in the Cherokee Marsh killed 10,244 carp out of the species' estimated population of 90,000. The operation took place in the winter when carp were huddled together. This made it easier to remove them from their habitat. The 10,000 carp were sent to markets in big cities and factories to be sold or made into food.
Those making efforts to eliminate carp at Cherokee Marsh hope to increase the area's amount of plant growth. Killing carp in Wisconsin will not completely restore marshes, but it will benefit Lake Mendota and Monona. If Wisconsin could eliminate carp by at least 40%, the Yahara lakes could also see benefits. Unfortunately, for marshes like Cherokee, it is not likely that the carp population will be diminished completely.
[Source: The Isthmus]