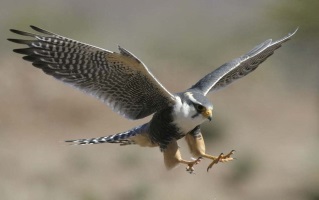 Peregrine falcons are often recognized for their vast travels; in fact, the word "peregrine" translates to "wanderer." During migration season, some of these falcons even travel up to 15,500 miles. Despite such lengthy travels, the amazing homing instincts of these falcons allow them to return to their favorite nests, some of which have been used for centuries.
During the twentieth-century, the peregrine falcon population experienced a major decline. However, this endangered species was revived after the ban of DDT and other insecticides. Following this rebound in population, some of these falcons have settled in a curious location where bird watchers and the general public alike can see them without binoculars: a local We Energies power plant.
While these falcons typically inhabit many environments including tundras and deserts, they prefer wide-open spaces, making this discovery rather unusual. Indeed, employees of the Wisconsin power plant were surprised to find the falcons on the plant's chimneys. They were later found not just at the one plant but at six We Energies locations throughout Wisconsin.
Since the arrival of the falcons, We Energies has caught the public's attention by live streaming their new guests with web cameras. These videos can be viewed at www.we-energies.com/falcons. Locations that stream these videos include Oak Creek, Pleasant Prairie, Wauwatosa, and Port Washington.
Multiple We Energy plants are uploading new images of the falcons every hour. Six sites are reported to have eggs that are expected to hatch soon. These birds have caught the attention of many and continue to garner interest due to their unique and unexpected activities.
[Source: Channel 3 News]