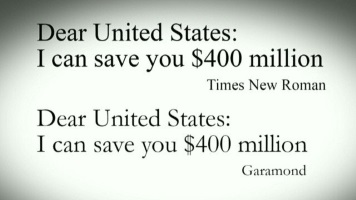 A teenager from Dorseyville Middle School, in Pennsylvania recently discovered a way to save the government millions of dollars. The solution: a change in font type.
Hoping to apply computer science to environmental sustainability for a science fair project, 14-year-old Suvir Mirchandani selected ink conservation as a focus. He collected samples of teachers' handouts and applied a computer program to estimate the amount of ink each document absorbed. He then enlarged and printed on cardstock the most commonly used letters in the handouts: e, t, a, o, and r.
Mirchandani cut out the individual letters, weighed them, and graphed his results. Through this process, Mirchandani concluded that thin-stroked Garamond is a much more efficient font than many of those commonly used. Using this type, Mirchandani indicates that his school could save up to $21,000 annually.
Wanting to share this information, Mirchandani submitted his findings to the Journal for Emerging Investigators (JEI), a prestigious publication founded by a group of Harvard graduates that prints research conducted by middle and high school students.
Mirchandani's project stood out to Sarah Fankhauser, one of the JEI founders. She encouraged him to apply this information on a broader scale. In response, Mirchandani repeated his tests, this time using samples from the federal government. Results from this second round of tests mirrored earlier findings. Mirchandani determined that using Garamond would save 30% of the estimated $467 million that the government spends annually on ink. If state governments also standardized the use of Garamond, an additional $234 million could be saved annually.
Mirchandani's findings now have the Government Printing Office (GPO) contemplating a change. Gary Sumerset, public relations manager at the GPO, questioned whether switching type could actually produce savings. He stated that the government was focusing on online information publication, thus negating potential benefits of a font change.
Mirchandani is persistent, however. He said, "I definitely would love to see some actual changes and I'd be happy to go as far as possible to make that change possible."
[Source: CNN.com]