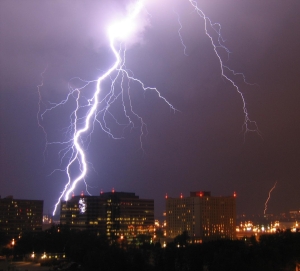 Did you know lightning strikes the earth 100 times per second? When lightning strikes the positive and negative air molecules that surround the lightning bolt are so hot, a small explosion occurs! The quick movement of the air surroundings the bolt makes the roaring sound we know as thunder.
For lightning to occur, positive charges build up at the top of a cumulonimbus cloud, a very large storm cloud, while negative charges collect closer to its base. Positive charges form on the earth under the cloud. The negative charges in the cloud are attracted to the positive charges on the ground. As they move closer to one another, the charges create sparks that are not visible to the human eye. Finally, two invisible sparks form, creating an entrance for the positive charges to move from Earth to the cloud. This upward movement creates a visible lightning bolt.
Lightning can be dangerous. It can set houses on fire and it can stop electricity from working. Lightning can also damage airplanes. It can damage the computers if the charges travel through electrical wiring. Lightning can even cause forest fires. Lightning can be very dangerous to humans; if struck by lightning, people and animals can sustain severe injuries, even death. However, 80 percent of people struck by lightning actually survive.
When thunderstorms hit, it is important to take shelter immediately either in a house or in a car with all windows closed. Since lightning is so dangerous, it is important to know when a storm is coming so you can stay safe!
[Source: Scholastic Atlas of Weather]