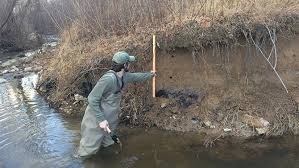 Wisconsin, as a state, has made great progress towards phosphorus reduction. However, despite the efforts of farmers, government officials, and community members alike, there has been little to show for it. The lakes are still muddy, phosphorus levels remain high, and toxic blue-green algae continues to flourish. County officials believe this is because there is a previously ignored source of phosphorus: legacy sediments.
Legacy sediment is a phosphorus-rich sludge that can be found at the bottom of Dane County's streams, creeks, and other bodies of water. This sediment is created when farm runoff combines with mud to create a thick slurry, full of nutrients. It leaks large quantities of phosphorus to the surface of lakes and remains a major source of pollution in the Yahara Lakes.
The traditional sources of phosphorus have been manure and fertilizer. Phosphorus is beneficial to plants but exacerbates blue-green algae blooms when it enters waterways, usually through runoff from rain and melted snow. Blue-green algae creates an unhealthy environment for swimming, boating, and other water-related activities because of the toxins that it can release. Exposure to blue-green algae can lead to rashes, fever, and, in serious cases, damage to the internal organs and respiratory failure. Most beach closings in Dane County can be traced back to the poisonous aquatic plant.
Dane County officials have decided to use a hydraulic dredging system to remove the legacy sediment. The system is comprises of a large vacuum that collects the much and a $12 million proposal project to get rid of 870,000 pounds of phosphorus. The project, called "Suck the Muck", analyzed the collected samples of the sediments within the 33-mile radius of streams, and found phosphorus nutrients in the samples.
Along with this current project, Dane County also plans to implement a second sediment removal site in fall/winter 2018 at other locations, like …..
"This effort will mean cleaner lakes for our children and grandchildren," said Dane County Executive Parisi. "Our lakes are one of the reasons people love living in Dane County. We must continue to improve the health and vitality of our lakes."