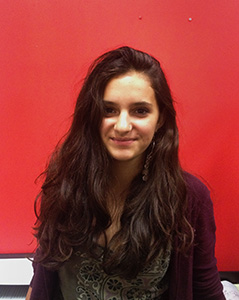 Evansville High School student and Simpson Street Free Press teen editor Sylvan Bachhuber received a $25,000 scholarship to attend Conserve School in Land O'Lakes, Wisconsin. This makes her the second Free Press student accepted by the Conserve School this year.
Bachhuber, 15, will spend the spring semester of 2016 at the school studying environmental and conservation practices. She will be among approximately 60 other high school students in the academic program that focuses its curriculum on practical, hands-on-learning within a natural environment.
"Growing up, I always had a love for nature and exploration. As I learned about the problems that were slowly destroying what I cherished, I became inspired by conservation and environmental sustainability," Bachhuber wrote in her application essay to the Conserve School.
The school's vast campus offers students extensive space to explore. In her application, Bachhuber added that she was "especially interested in the rugged aspect" of the school. "I enjoy hiking, canoeing, and everything that enables me to experience nature," she wrote.
Students at Conserve School live on campus and away from family and friends. While this is, perhaps, an atypical high school experience, Bachhuber is looking forward to it. "I'm so excited to get in touch with nature and participate in hands-on-learning with kids my age," she said.
In addition to a plethora of outdoor activities, Bachhuber has many interests and displays impressive leadership in various aspects of her life. She is her school's chapter leader for I Am That Girl (IATG), an international program that advocates for gender equality. Bachhuber was also recently named a semi-finalist for a scholarship through NSIL-Y, a program that offers youth financial support to study abroad.
Free Press staff and students alike are proud of and would like to congratulate Bachhuber, who started working at the Free Press as a staff writer in January of 2012. They wish her the best of luck as she prepares for this wonderful opportunity.