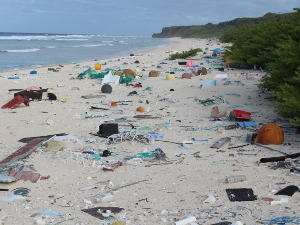 Researchers were surprised when they found an estimated 38 million pieces of trash washed up on the beaches of a tiny unpopulated island in the middle of the Pacific Ocean recently. According to the researchers, the density of the trash was the highest recorded in the world. Welcome to Henderson Island, an 18 sqaure-mile British dependency located about halfway between New Zealand and Chile.
Jennifer Lavers, the main author of the report published in the Proceedings of the National Academy of Sciences, is a research scientist at Australia's University of Tasmania. She said the ocean captures and holds floating trash that ends up on the island because it is located in the South Pacific gyre, which is a vortex of ocean currents.
While conducting the study in 2015, Lavers and six other researchers stayed on Henderson Island for three and a half months. They found 17.6 tons of garbage, more than two thirds of which was under sediment on beaches. Lavers and her team cleared part of a beach to watch trash collect and estimated that more than 13,000 pieces of trash washed up on the island every day.
Almost all of the garbage on Henderson Island consists of plastic. Researchers found toys of every shape, size, and color. The toys included soldiers, dominoes, and hard hats. Lavers said she also spotted red motels from the Monopoly board game and green toy soldiers that looked exactly like the ones her brother played with in the 1980's. The most common items the researchers encountered, however, were toothbrushes and cigarette lighters, while one of the oddest items was a baby pacifier. Amidst the garbage they also found a crab living inside a cosmetics container and a dead sea turtle that had been caught in a fishing net.
Lavers told the Associated Press, "the quantity of plastic there is truly alarming. It's both beautiful and terrifying."
Sometimes the various colors of the plastic scattered throughout the island would hypnotize her, but then the harsh truth of the island's disastrous condition would hit her.
"We need to drastically rethink our relationship with plastic," Lavers said. "It's something that's designed to last forever, but is often only used for a few fleeting moments and then tossed away" and this leaves a lasting negative impact on our world.
[Source: Wisconsin State Journal]