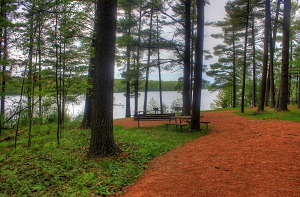 The DNR states that the mission of Wisconsin state parks is "to protect and enhance our natural resources...to ensure the right of all people to use and enjoy these resources in their work and leisure… and in this partnership consider the future and generations to follow." Unfortunately, these goals may become less attainable with Governor Walker's recent proposal to eliminate tax support for the state park system.
The Walker administration has proposed an unproven model of funding for Wisconsin state parks. Dubbed "pay to play," this model would shift funding sources from taxes to higher fees and private naming rights.
Proponents of the proposed funding policy argue that it is only fair for users of the parks to be the primary source of their funding. However, the nonpartisan Legislative Fiscal Bureau found that there are no other state parks that implement this system, and experts believe it is neither a sustainable nor long-term policy option. Additionally, the proposal could cause a plethora of problems in the realm of park management and for local economies and future environmental stewardship.
The purpose of state parks, according to many who value them, including Democratic legislators, is not only to provide recreational opportunities but also to maintain and protect remaining natural areas. This includes invasive species and wildlife management, erosion control, wildfire prevention, and an array of other land and stewardship needs. It is unclear where the funding for this management will come from with Walker's proposal. Without said funding, state parks will likely start to deteriorate.
In a 2013 study, the DNR found that visitors who don't live near Wisconsin state parks spend about $580 million annually in local communities surrounding the parks. The study concluded that if Wisconsin state park admission fees were significantly higher than those of surrounding states, tourism attendance would likely plummet, thus affecting the livelihood of citizens and the health of their communities.
A raise in state park user fees would also make the parks less affordable, consequently jeopardizing future environmental stewardship. With limited access to parks, an entire generation of young people would have fewer opportunities to enjoy the mental, physical, and communal benefits of being in a pristine natural area. Coined "Nature Deficit Disorder," this phenomenon has already started to appear among current generations, and would undoubtedly reduce the next generation's commitment to preserving these parks.
As Representative Chris Taylor put it, "I don't know why we would go on down this risky scheme—that's never worked for any state—and (gamble) with our park system." It is critical that we continue to invest in our state parks and preserve the environment for current and future generations alike.
[Sources: madison.com; Milwaukee Journal Sentinel; WPR.com]