Book Review: Where the Mountain Meets the Moon
Written by Grace Lin
reviewed by Jeani Carruthers, age 10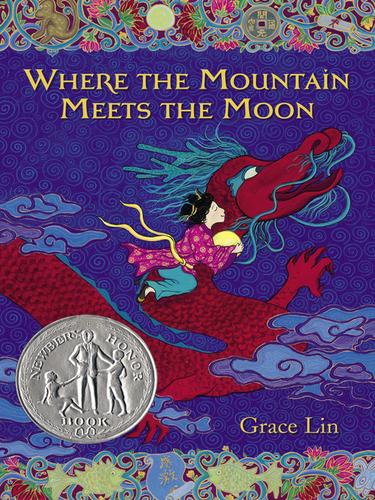 Where the Mountain Meets the Moon is a book written by the award-winning author, Grace Lin.
This book is about a girl named Minli who lives in a village by Fruitless Mountain. It is called Fruitless Mountain because nothing can grow on it.
Minli loves the many stories her father tells her, but she is so curious that she lets the stories get to her. Minli wants to change her family's fortune. She thinks that if she visits the Old Man in the Moon from her father's story, she can accomplish her goal.
One day Minli meets a mysterious old man who is selling goldfish in the village and decides to buy a fish with one of her only coins. Her parents are angry and think that she wasted her money, but when she sets the goldfish free, she discovers it can talk!
Minli starts her adventure after the goldfish tells her to go see the Old Man in the Moon. She meets a dragon, a powerful king, and a Buffalo Boy on her mission to change her family's fortune. Will she succeed? You'll have to read the book to find out.
I didn't think the book was all that fun. But I still think this would be a good book for 5th and 4th grade because it has challenging words and every story teaches a different life lesson.