The Falk Free Press Guide to Preventing the Summer Slide
by Britany Ugalde, age 11; Ajah Dye, age 11; and Patricia Fenne-Garcia, age 11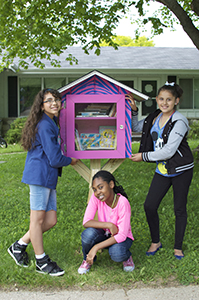 Summer time is great for a lot of reasons. It's warmer, there's no school, there's no rules, and there's so much free time. With almost three months of summer vacation, it is important to add in some reading to your free time.

At Falk Free Press we think that reading over the summer is vital to helping prevent summer slide. The summer slide happens when kids don't read or do any academics over the summer. This causes kids to forget a lot of what they have learned during the school year, making their reading and literacy levels "slide" downward. While reading over the summer is important, it is also crucial to continue reading even after school starts.


There are many ways to prevent summer slide. One is to read at least two books over the summer. These books can be read in small amounts daily or weekly. The point is not to read a billion books over the summer, but to read in general. You can start a book and read a few pages a day before bed. Or you can take your book with you to the park and read under a tree. If you are going on vacation, you can take your book with you and read it on the plane or on the car ride. You can read almost anywhere, as long as you are reading.

If you don't have any books at your house it's very easy to get a hold of books. You can go to your nearest library and check out a book (but remember to return it on time, or else you might have to deal with late fees!) If there is no library near your house, then there might be a Free Little Library in your neighborhood. Free Little Libraries are small wooden boxes that look like big bird houses that are spread throughout the city. Each one has free books that you can take and read for as long as you like, but the key is, that if you take a book, you should leave a book for someone else to read. The books in these Free Little Libraries can be for many different age groups because anyone can put books into them, so it's important to take an adult with you when visiting these Free Little Libraries to make sure you pick out an age appropriate book.
When school starts in the Fall, take pride in what you read over the summer and talk with your teachers about the books that kept your mind busy and engaged. We're sure your teachers would love to hear about your favorite summer reads.

We thought it would be a good idea to suggest a few good books that we have enjoyed reading and hope you will enjoy too!
Falk Free Press Reading List:
Where The Mountain Meets The Moon, by Grace Lin
Harry Potter Series, by J.K Rolling
Esperanza Rising, by Pam Muñoz Ryan
Diary of A Wimpy Kid Series, by Jeff Kinney
Hatchet, by Gary Paulson
Number The Stars, by Lois Lowry

These are just a few books that we thought you all might enjoy. But no matter what book you read, the important thing is that you are reading!