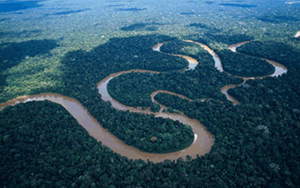 Did you know that the Amazon River was named after fierce women warriors from ancient Greece? Spanish explorer Fransico de Orellana first named the river after he fought a tough tribe of women near the river who reminded him of the Greek women warriors called "Amazons."
The largest, widest, and longest river in the world, the Amazon River starts in Peru and it flows to the Atlantic Ocean. It runs through the Amazon rainforest, which is the largest tropical rainforest in the world.
There are many fish and animals that live on around and in the Amazon River. Be careful if you swim in the Amazon River because it is home to many kinds of fish, like piranhas. Piranhas are dangerous because they attack when they smell blood. The Amazon River is also home to the largest snake in the world, the anaconda. This snake kills its prey by squeezing it to death and then eats it whole.
There are also people who live by the Amazon River and depend on the river to survive. These people are known as Amerindians and hunt by using canoes in the Amazon River.
The Amazon River is a massive body of water that is home to many interesting species. This huge river is not only beautiful, but it is also very important to the creatures that rely on it.
[Source: Simpson Street Free Press Archives ]