Satchel Paige: A Pioneer In the Sport of Baseball
by Hernan Hernandez, age 10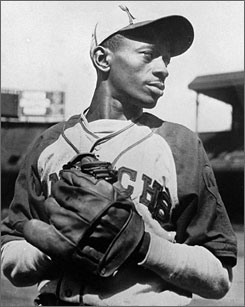 Satchel Paige was one of the greatest players in the Negro Leagues, and went down in history as a pioneer in the game of baseball. In 1933, as a member of the Negro League, Paige threw 64 consecutive scoreless innings and recorded 21 straight wins. He continued to awe his fans with amazing plays for the rest of his career.
It is thought that Paige was born on July 7, 1906, but no one knows for sure. People became very curious about his age because he had such a long, successful career, but he never let his secret slip. Once when he was asked about his age, he said, "Age is a question of mind over matter. If you don't mind, it doesn't matter."
Paige dominated the Negro Leagues for 22 years, but he had bigger dreams. He wanted to become a Major League player. In 1948, he was finally able to join the Major Leagues, just one year after Jackie Robinson broke the color barrier. First he played for the Cleveland Indians. He was so good that he went on to play for St. Louis and Kansas City as well. In 1965 he pitched his last game. But baseball continued to be a central part of his life; he later became the coach of the Atlanta Braves.
In 1971 Satchel Paige won Baseball's supreme honor: he was elected into the Baseball Hall of Fame. He died in Kansas City in 1982. Even today, he is regarded as one of the best baseball players of all time.
[Source: Simpson Street Free Press Archives]