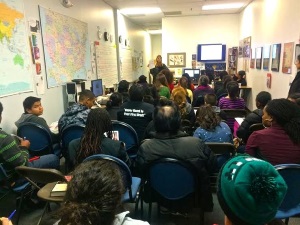 In a day and age where few college students can secure jobs before graduating, student loans are increasingly scary. In fact, college students average thousands of dollars in debt. And with today's grim job market, these loans can't help but make you question: is a college education really worth it?
At Simpson Street Free Press, we know that attending college is not an option. It's mandatory. But when it comes to paying for college, there are a multitude of options. And it's important to plan ahead—whether or not you choose the traditional four-year college path.
As part of our ongoing Financial Literacy series, the Free Press recently hosted a discussion for students and parents planning for college. Co-hosted by Summit Credit Union, guest speakers included Amy Crowe of Summit Credit Union, Takeyla Benton of Park Bank, and Joselyn Diaz-Valdes of UW-Madison's Office of Student Financial Aid.
Panelists at SSFP's "How to Pay for College" event presented a variety of options to those of us wondering how we might afford the hefty fee of a higher education. They indicated that it's important to keep costs down and avoid debt. And making smart choices when it comes to loans, scholarships, and grants is the key, said Summit's Crowe, who kicked off the panel with a financial literacy presentation and later provided budgeting materials to students and parents.
Crowe also suggested how important it is that prospective college students open a credit account—one with a small limit, that is. Building credit can be crucial for one's future, but Crowe emphasized that having a credit card is also a huge responsibility. Spending beyond your means and dealing with the consequences can be very problematic for new credit card owners, especially young ones.
Park Bank's Benton and UW's Diaz-Valdes echoed Crowe's sentiments. All three panelists further noted that students are never too young to start planning for college, both mentally and financially.
"It gave me a lot of hope to know that there is always help for kids out there like me who need financial aid in order to go to college. And even though I'm 13, this panel helped me realize how important it is to start thinking about these opportunities for my future," said Leila Fletcher, SSFP student reporter who attended the panel with her Mom.
Financial Literacy is an important section in SSFP publications and a timely topic for us young writers. We are very grateful, as always, to our panelists and Summit Credit Union for keeping us informed. SSFP students know that affording college requires determination and hard work. But we are ready for the challenge, and we are resolute in our desire to succeed.