Teen Employment Rates Hit All Time Low

by Taylor Kilgore, age 15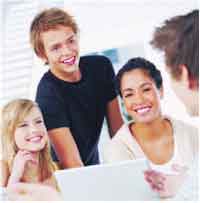 In Chicago there is a hard working and determined teenager named Gabriel Banks. She just wants to help out her mother, who is raising four children by herself.

Gabriel braids hair for her friends to earn money, but at the same time she has been looking for a job. She has been looking for a job for almost a year. She has submitted dozens of applications. Unfortunately, Gabriel has yet to hear from any employers.
It is a troubling fact that currently unemployed teenagers are in great danger of falling behind. For many American teens, unemployment means an uncertain economic future. Unfortunately, the number of teens who are employed in Illinois has dropped almost 50 percent since 2000. With about 28 percent of its teenagers working, Illinois is at an all time low for teen employment.
Although federal stimulus money was supposed to provide jobs for teens, much of the money was wasted or used up faster than planned, according to a recent story in the Chicago Tribune.
During the 1980s, Chicago employed 35,000 youths each summer, using federal money. By 2000 this funding had dried up. Back then teens were 1.4 times more likely to be working than 55 year olds. By 2002 those numbers were reversed.
Last summer, for the first time in nine years, $1.2 billion was distributed across the country for youth employment programs. As a result, 7,800 youths in Chicago were employed. In addition, the city's Youth Ready Chicago Program, a public-private collaboration, employed about 20,000 young people. Many statistics factor into the teen employment equation. In Chicago only 12 percent of low-income students were working in 2008. Teens from middle-income families are almost twice as likely to hold jobs. Also, only 15 percent of black teens held any type of job. This figure compares to 30 percent of Latino and 33 percent of white students.
In lower-income communities many teens seek jobs to help out their parents. Some are trying to accumulate references and build their work histories. But in many areas it is hard to find part-time teen jobs.
"If kids don't have jobs they don't have a chance to learn what it takes to have a job", said Jack Wuest, executive director of the alternative schools network in Chicago.
Proving his point Wuest cites this statistic: more than half of youths who were 16 to 19 and unemployed between 2003 and 2007 are still facing unemployment today. Joe McLaughlin, a senior researcher associate for the Northeastern University's Center for Labor Market Studies, calls it "the lost decade."
Having a low teen employment rate in Chicago is a lose-lose situation. It is bad for a generation of unemployed youth, already suffering the effects of a bad economy. And it is also bad for the city. A smaller pool of talented employees means companies won't be as interested in moving to Chicago.

[Sources: Chicago Tribune; The Wall Street Journal]