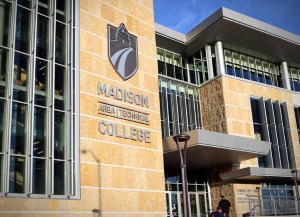 Transferring colleges is sometimes a challenge. It can be a daunting task with a lot of uncertainty, especially for students coming from under-resourced communities. A new grant and partnership between UW-Madison and Madison College (MATC) may help these students. Specifically, this new developing program aims to increase the graduation rate of STEM (Science, Technology, Engineering, and Math) transfer students coming from MATC to UW-Madison.
Data from UW-Madison indicates that the six-year graduation rate for transfer students is five percent behind the average student who enrolls as a freshman at the four-year institution.
Thanks to a five year, $1 million grant from the Howard Hughes Medical Institute, students who are pursuing careers in the STEM field and attending University of Wisconsin two-year programs or technical colleges will receive more direct assistance in the college transfer application process. Students will gain the opportunity to meet with UW faculty prior to transferring and more than 1,000 UW faculty and staff will be trained over the next five year grant period to work out this new system. MATC's STEM Center director Kevin Mirus said, "This grant will help support students before they even submit their transfer application."
The program aims to help over 300 transfer students. Miranda Newman, an incoming transfer student this fall from MATC to UW-Madison, is one of them. Newman, who is interested in the field of zoology, explained that the new partnership would help students overcome some of the obstacles she faced while tackling the transfer process. UW-Madison plans to expand this partnership in the coming years, along with other college assistance programs, such as UW's Badger Promise and MATC Scholars of Promise, to create a better experience for transfer students.
[Source: Source: Madison.com]