How to Cope With Student Debt

Young People Should Know and Prepare How to Deal With College Costs

by Parwat Regmi, age 17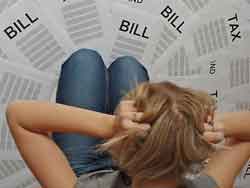 During fall of senior year many high school students begin applying for the colleges of their choice. It is a lengthy process that involves writing a personal essay and submitting applications.

Finding the money for tuition is also a necessary step. Scholarships, grants, and loans all represent possible sources of money. Once students are admitted to college and have tuition money in hand, they are ready for college life.
But what happens after college? Are college graduates free and clear to pursue their career? Financially speaking – no. College graduates must pay off the loans they borrowed to cover college costs.
Paying off debt is not an easy matter. It is important that graduates understand their options and follow up on their payments. The first item on the list for any student should be to know their grace period – the period of time over the deadline that carries no penalty. In general, federal student loans require students to begin repaying their loans six months after their graduation.
The second item to consider is whether students qualify for an income-based repayment program. Under this program, loan payments can be reduced. If a student has a low income, payments are usually set at 10 percent of total income. Any remaining debt will be forgiven after 25 years.

To apply for this program, it is required to contact the loan servicers. By checking the database of the National Student Loan Data System at www.nslds.ed.gov or www.ibrinfo.org, students can easily locate their servicing companies. To qualify for the program, last year's tax return must be provided to the Department of Education.
A third option to consider is a deferment or forbearance. Loan payments because of unemployment or unfinished college can be postponed. The government will pay interest on subsidized Stafford loans provided to students with financial need during deferment. Interest on unsubsidized Stafford loans will build up during deferment. A disqualification for deferment is not the end of the road. There is still the possibility to be eligible for forbearance. While requirements are not as strict as deferment, interest will accumulate during the forbearance period. Deferment and forbearance are short-term solutions, so the income-based repayment options are preferred for the long-term.
Extending the payment term is yet another available opportunity. Borrowers who owe more than $30,000 (with interest) are able to extend their payment term beyond the standard ten years. This option reduces the monthly payment, but – like forbearance – the interest will accumulate during extension. All the options listed above apply to the federal loans only. Private loan lenders are not required to participate in the income-based repayment or the deferment program.
If students find it difficult to meet the payment requirements, thoroughly understanding the loan agreement contract might aid them in some levels. The contract may require the lender to grant the borrower for forbearance under certain conditions.
If the contract does not include an economic hardship relief, the lender might be willing to provide other options. "Some lenders have become more flexible in allowing interest-only payments for a few months, or may even agree to change the terms of the loan," says Deanne Loonin, staff attorney with the National Consumer Law Center.

The bottom line is that loan payments do not have to be a nightmare. If students are able to stay focused on how they will maintain their college costs, then it should not be too difficult to repay their loan debts. Forbes.com suggests: "Know how much you are willing to borrow." Borrowing moderate amounts of money means the debt will not exceed the limit for students to handle.

[Sources: USA Today; www.forbes.com]