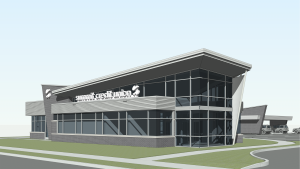 This coming December, a new branch of Summit Credit Union will open on Monona Drive. It will be the 34th Summit location.
Summit Credit Union is a prominent Madison-based financial firm with $2.7 billion in assets, 162,000 members, and 450 employees across Wisconsin. The new branch, opening on the former site of the La Bamba restaurant, will be the second largest credit union in Wisconsin. The address is 5809 Monona Drive.
Summit Credit Union also plans to start construction on a new corporate headquarters and campus in Cottage Grove later this year.
[Sources: Wisconsin State Journal; Madison.com]