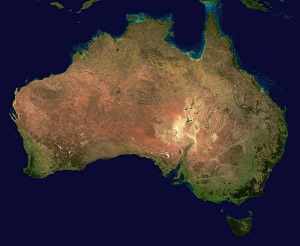 Kangaroos, platypuses and many types of exotic fish greet those who visit Australia, also known as The Land Down Under.
Australia is the only continent that is also an island. Additionally, it is one of the only two continents located entirely within the southern hemisphere, the other being Antarctica. Bordered by the Pacific Ocean on its east coast and the Indian Ocean on its west coast, Australia has both cool, wet climates and hot, dry weather. While some parts of the country are mountainous, others are flat.
Central Australia, or the outback as its commonly known, is dry and desert like. Set in the middle of the Outback is an enormous rock called Uluru, which is more than 1,000 feet tall and one and a half miles long. Australia's capitol, founded in 1913, is Canberra. This city has a population of 381,488. Australia's other major cities include Sydney and Melbourne. While it is not the capitol, Sydney is bigger than both Melbourne and Canberra.
Australia's many cities are filled with unique wildlife. Platypuses, the only mammals that lay eggs, and marsupials like kangaroos and wombats are all native to this continent. The Great Barrier Reef, which is located off the shores of Australia, is a popular place to see all sorts of fish and aquatic life.
Australia is an exciting land and contains many different living beings to learn about. These are only a couple of the reasons why it attracts many tourists each year.
[Source: SSFP archives]