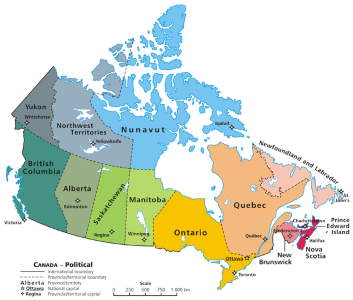 You might not know that the country sitting directly above us is the second largest country in the world. In fact, Canada contains one fourth of all freshwater on Earth, is home to over 30 national parks, and includes the 4,350-mile long Trans-Canada highway—a stretch longer than many entire countries!
Canada's native inhabitants arrived from Asia at least 13,500 years ago. Europeans settled in this area some time in the 1500s and, since 1867, the nation has governed itself. Primarily forest and prairie, Canada also borders four of the five Great Lakes and is home to much of the Rocky Mountain range.
Not surprisingly, forestry is one of this nearly-Arctic nation's biggest industries. Trees are cut down not only to build homes but also to make paper. Maple trees in Ontario and Quebec, two of the ten Canadian provinces, are especially well-known for the maple syrup they produce.
In addition to a human population of more than 31 million, many animals such as bears, beavers, bobcats, caribou, foxes, goats, moose, mountain lions, and wolves also call Canada home. Like these various species, Canadian people enjoy spending time outdoors. Common Canadian pastimes include baseball, football, ice skating, ice hockey, skiing, and soccer.
Despite its frequently below freezing temperature, Canada has a rich history and much to offer. If you ever have the chance, check out this northern nation!
[Source: The Kingfisher Children's Encyclopedia]