Once Common in our State, These Big Cats Are Making Their Way Back

by Taylor Kilgore, age 15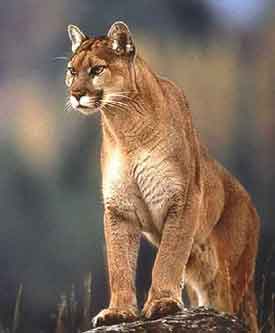 Though cougars are not native to Wisconsin, sightings in the state have been reported since the 1940s. The cougar is very rare and mysterious; occasionally these big cats appear quickly, then disappear with a ghostly exit back into the forest.
Many "cougar sightings" actually turn out to be other animals that look similar to cougars, like golden retrievers. But with the frequency of cougar sightings increasing, likely they will settle in Wisconsin soon. Some wildlife experts think they may already live here.
During the past two years, several wild cougars have been spotted and tracked in Wisconsin by the State Department of Natural Resources (DNR). Eric Anderson, a UW- Stevens Point professor and wildlife researcher, believes that cougars will settle in Wisconsin soon, meaning it is time to agree on a capture protocol strategy. Even though research is in the preliminary stages, cougar settlement in Wisconsin means it is time to prepare a plan.
Researchers in Spooner, Wisconsin recently spotted a cougar and attempted to tranquilize it. Unfortunately, the tranquilizer was not strong enough. The cougar fled and disappeared into the nearby woods.
In 2008, a surprised trapper came face-to-face with a cougar in a barn outside of Milton, Wisconsin. According to the trapper, the cougar jumped to the ground through broken siding from the barn's second floor and vanished into the woods. That same cougar was later found in Chicago and identified through blood tests. It was later shot by a local policeman.
And later, in March of 2009, hounds chased a cougar up a tree near Spooner, and in December a trail camera near Eau Claire photographed another cougar.
Many of the sightings reported to the DNR remain unconfirmed. And it is unclear whether the confirmed cougars were residents of the area or just passing through.
Adrian Wydeven, a DNR wildlife biologist, says that Wisconsin's large wolf population of over 700 wolves will discourage the cats. In the meantime, it will be interesting to see how these two species coexist, considering both animals rely on deer for food. On the other hand they differ in their environmental preferences. Cougars for example like deep forests, while wolves prefer woodland areas.
Cougars in Wisconsin may be a shocking realization, but like any other wild animal these cats need to be monitored and controlled. Since 1991, the DNR has used a system to collect reports of cougars and track their movements. Wisconsin wildlife biologists have learned from researchers in states like South Dakota who have experience darting and radio-collaring cougars. These strategies will help scientists learn more about our long-lost resident.

[Source: Wisconsin State Journal]